Valentine's day is right around the corner and there's no better way to celebrate a special holiday than with fun cocktails! Click here to view the full list and find the drink recipe that your heart desires. Make sure to let us know which one is your favorite. Cheers lovebirds!
Ingredients
1/2 cup ice
1/2 cup fresh or frozen strawberries
1 scoop vanilla ice cream
1 ounce vodka (unflavored, strawberry, or vanilla)
1/2 ounce white crème de cacao liqueur
Strawberry, for garnish
Steps to Make It
Gather the ingredients.
In a blender, add the ice, strawberries, vanilla ice cream, vodka, and crème de cacao.
Blend until smooth.
Pour into a chilled margarita glass.
Garnish with a strawberry. Serve and enjoy.
View the Full Article: https://insanelygoodrecipes.com/valentines-day-cocktails/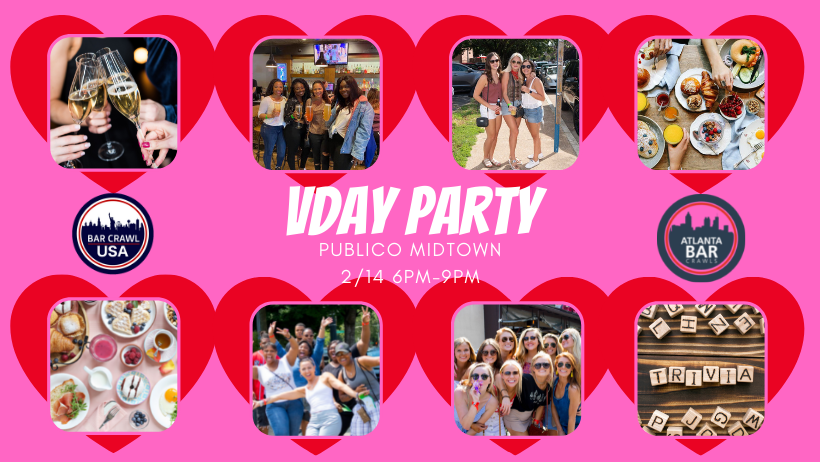 If you live in Atlanta then we've got you covered for Valentine's Day!
Grab your friends or loved one for a fun filled Valentine's Day Dinner & Drinks
About this event
Join us for The Valentine's Day Party at Publico! And get all the below included with your ticket:
💋 Glass of Rosé or Valentines shot upon arrival.
💋 DJ playing fun Valentine's Day music
💋 Entry only to upstairs private seating
💋 Love movie trivia plus $25 gift card or other prizes for winner
💋 Valentine's Day Bingo and chance to win $50 gift card for winners
💋 Red wristband(for those who are coupled up) or Green wristband (for those who are single)
💋 Igloo's will need to be requested in advance. info@barcrawlusa.com
💋 Guaranteed Seating with you and your loved ones / friends.
💋 Want to avoid fees? Email us at events@barcrawl-usa.com
Ticket Link: https://www.eventbrite.com/e/vday-party-at-publico-tickets-260631785687