Quarantine at home bar crawl recap:
We couldn't take the party to the bars, so we brought the party to YOU (social distancing style).
During these unprecedented times, we wanted to do something to unite together our thousands of crawlers. Unfortunately almost all of of spring events have been rescheduled to a later date, but that isn't stopping us from trying to bring the joy of togetherness from afar. Check out the details about our free #QuarantineBarCrawl that we hosted on March 21st and March 28th, 2020.
So what is a "Quarantine At Home Bar Crawl"?
Basically a fun bar crawl that is done in the comfort of your own house.
Every 30 minutes we posted a video introducing the new crawl theme, that it was time to move rooms, and what playlist to be bumping to. The crawl was from 6:00pm-9:00pm and concluded with an after party.
Crawlers could submit their pictures and videos within our Facebook event page or by tagging us on Instagram. Check out both 'Quarantine At Home Bar Crawl' Facebook event pages to see our how much fun our crawlers had!
Crawl Map:
Can't have a crawl without a map! Each crawl had their own map and a specific Spotify playlist to follow along with.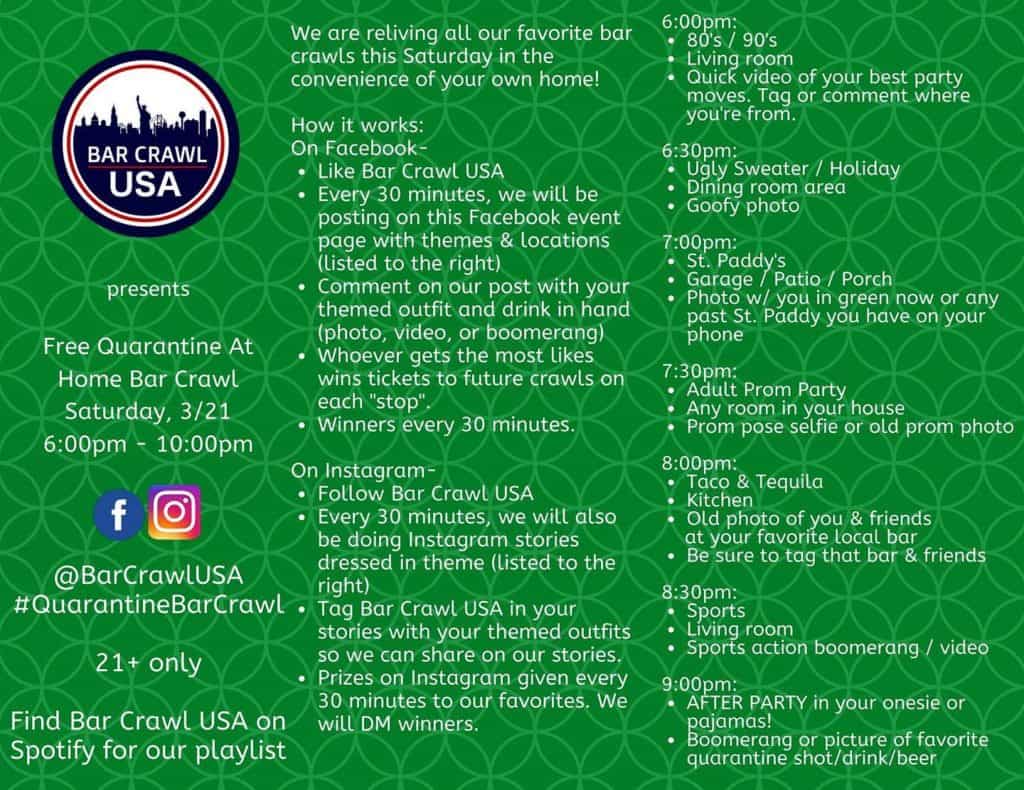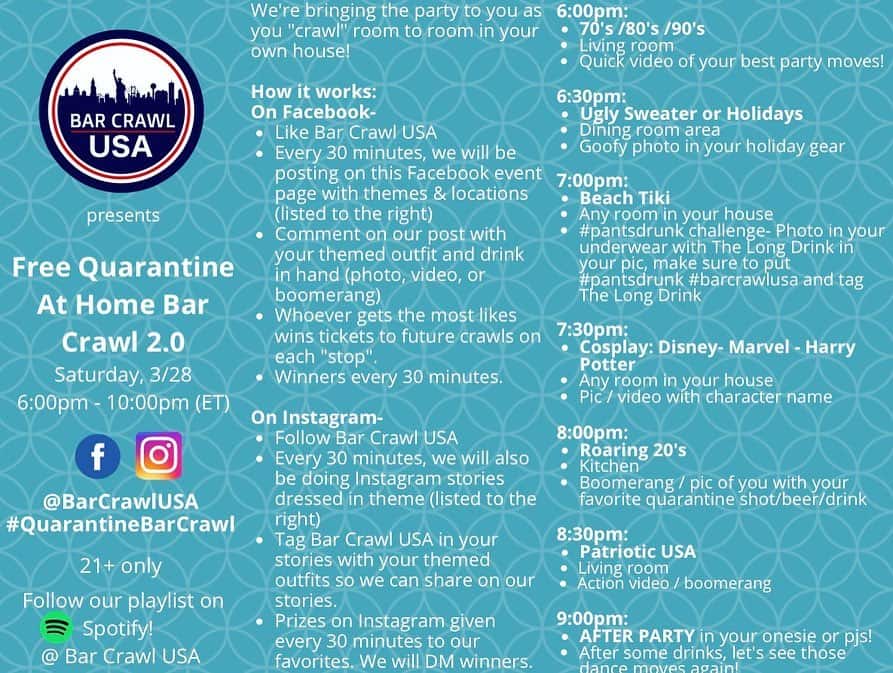 Crawl Themes:
To make things even more fun, we decided to have different themes throughout the crawl! The theme changed every 30 minutes and crawlers got into the spirit by changing their outfits to each theme. We had such a blast seeing everyone's outfits and dance moves.
Our themes included: Ugly Sweater / Holiday, USA Patriotic, Adult Prom, Beach Tiki, 70's 80's & 90's, St. Patrick's Day, Cosplay, Roaring 20's, Taco & Tequila, and Sports.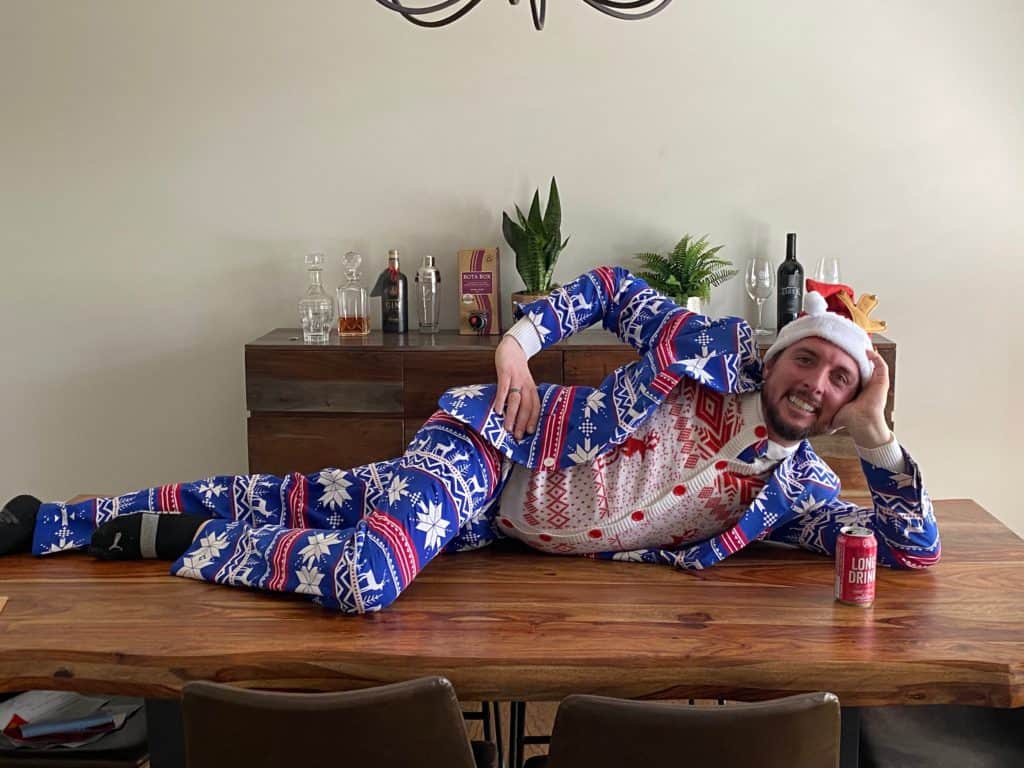 "Quarantunes":
Each theme also had it's own corresponding playlist on Spotify. For example: Our Ugly Sweater / Holiday playlist had everyone's favorite 'All I want for Christmas is You', while our Beach Tiki playlist had the classic 'Margararitaville'. We even created a pregame playlist that had songs with titles in reference to quarantine… all in good fun humor ;) You can check out all of our Spotify playlists here!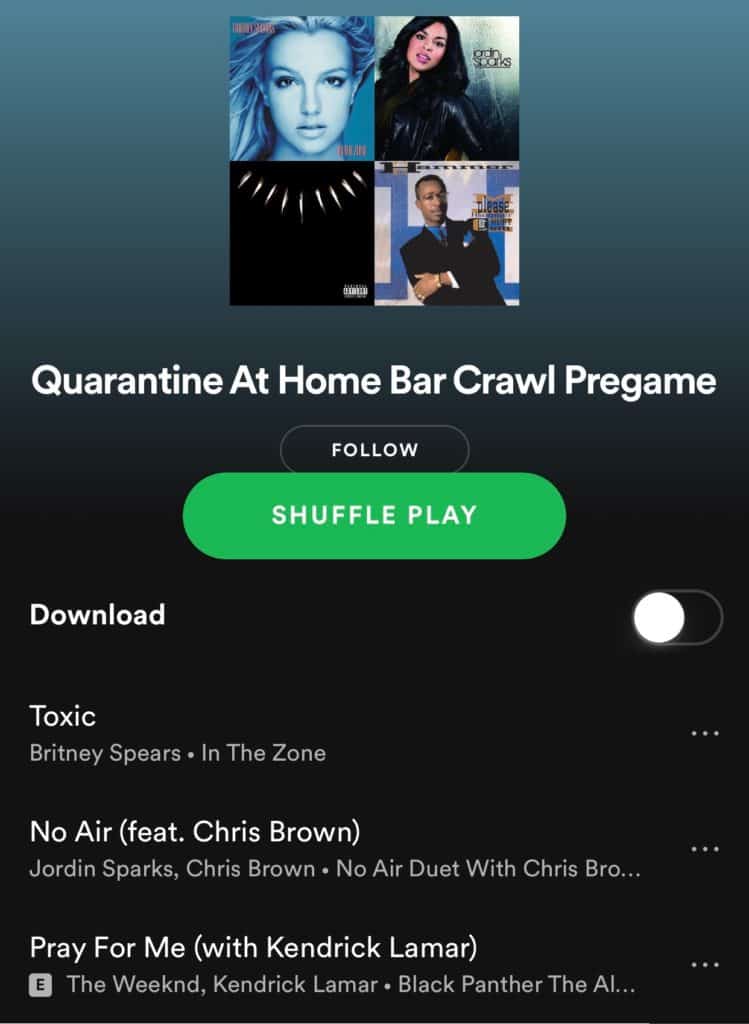 Follow us! @BarCrawlUSA
Make sure you're following us on social media to stay up to date with Bar Crawl USA.
TikTok : @ barcrawlusa
While you're here, check out our new website and sign up for our newsletter. You'll receive an EXCLUSIVE promo code, important event updates, access to giveaways, and more!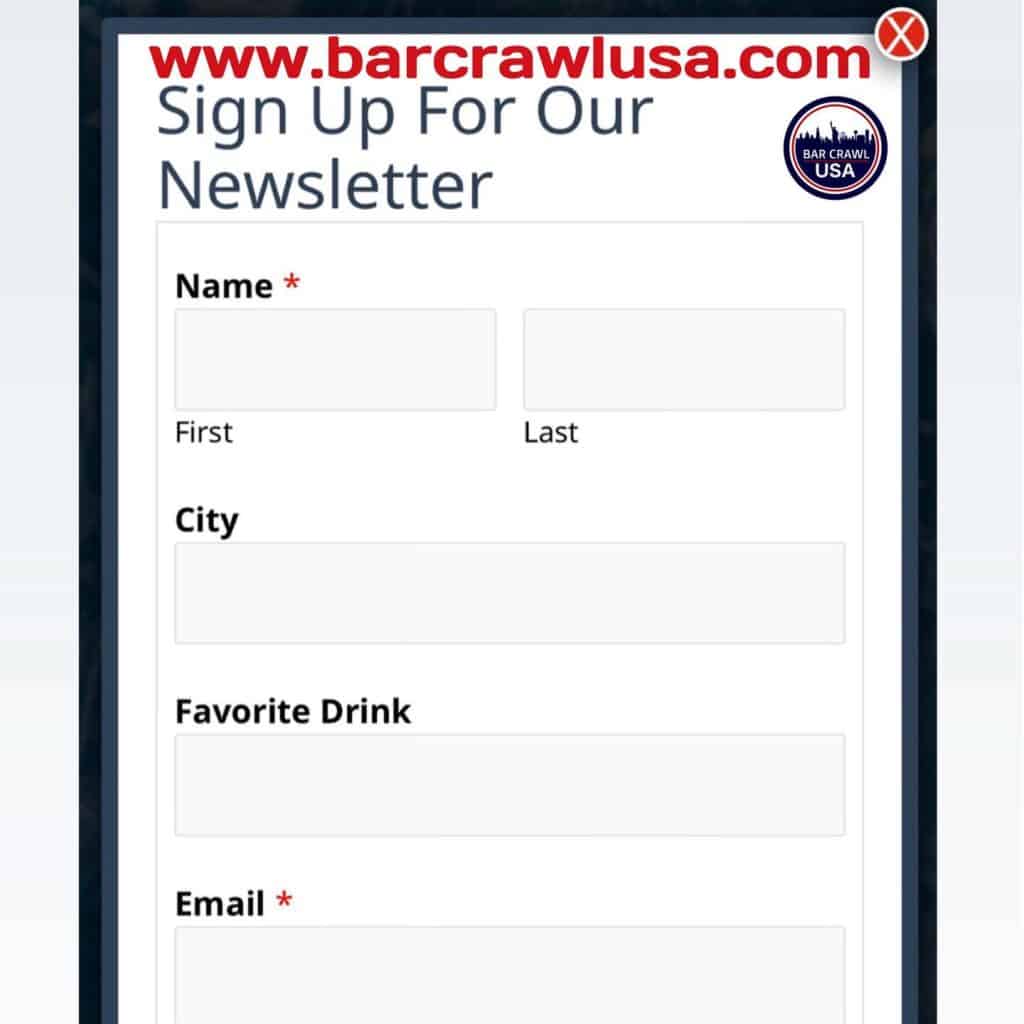 Thank you for your support!
We would like to thank everyone who "crawled" with us during our two Quarantine Bar Crawls. We cannot wait to physically get out there and put on our crawls again in your cities. Stay safe, support your local bars & restaurants, and see you soon!