B I N G o !
Bingo is one of all time classic games played in a community setting. One person calls out a number and the others have to cross it out on their ticket. Once a row is completed, the participant gets to yell BINGO and they win their prize.
Since you can't go out to play bingo, we wanted to bring bingo to you – social distancing style.
Check out our bar crawl bingo card and play! Instead of aiming to get a row filled, we want you to fill as many squares as possible to win. Just dot or 'x' off each square that you've done! Once the card is completed, we'll send you an exclusive promo code that is valid for any bar crawl this year.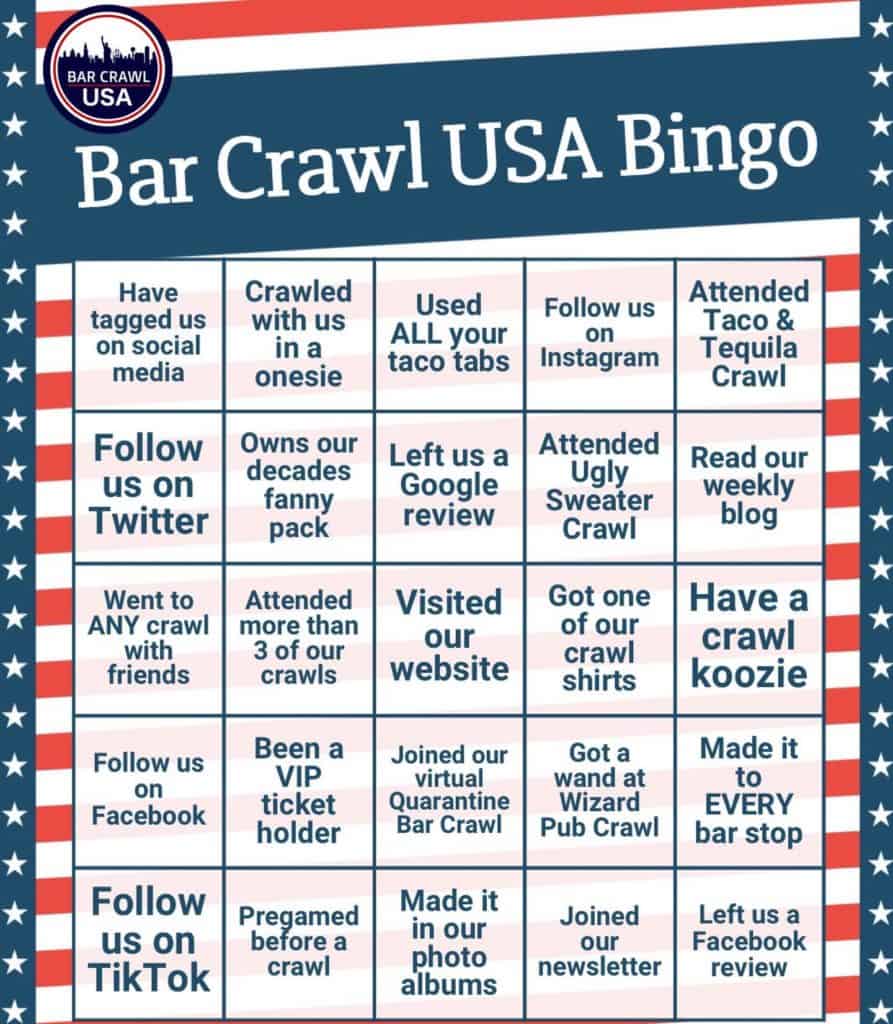 How to play:
To "play," first save a picture of the Bar Crawl USA Bingo card to your photos. You can either save the one above, or find find one on our Instagram and Facebook page. Then, you post the unmarked Bingo card to your Instagram Story by going to your Stories interface and tapping on your Camera Roll. The card should be the first photo you see. Once you tap on the photo, use your Stories drawing tools to mark which activities you've done. You can be creative with how you want to mark up your card, whether you choose to use circles, checkmarks, or even emojis. Then, right before you post the Story, tag other people to do the same. Instagram is the easiest way to get drawing tools, but if you don't have an Instagram you can use the edit tools on you click edit on the photo.
Where to Post:
You have a couple options on where you can post your Bar Crawl Bingo Card. We would love to see it on social media! Upload the card in your Instagram / Facebook story or feed and tag us. Also, you can share the card by posting it in the comments of our blog post.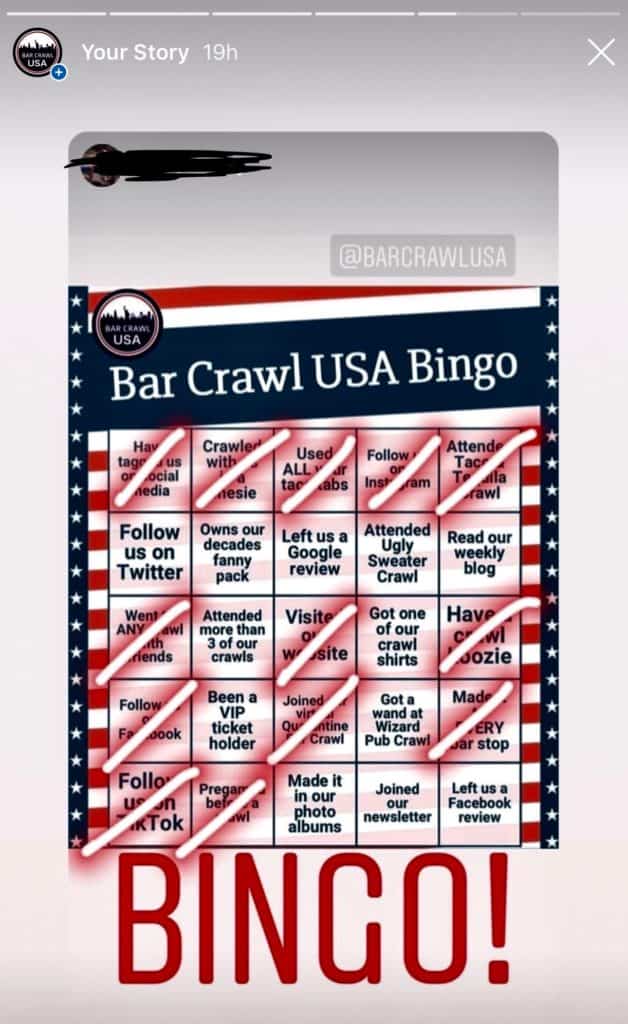 Need help?
Here's some links below to help you check off those squares!
Let's socially connect —>
Instagram: @barcrawlusa 
Facebook: @barcrawlusa
Twitter: @barcrawlusa
TikTok: @barcrawlusa 
Our Website: www.barcrawlusa.com 
Sign up for our newsletter here 
Check out our Weekly Blog 
Google Reviews: search Bar Crawl USA 
Facebook Reviews: please leave us a review!
Crawl Photo Albums: tag and share 
Come Crawl with us!
We can't wait to be back in your cities putting on the best bar crawls! Make sure you follow us on social media and sign up for our newsletter to receive important updates on events and giveaways. Check out our events here. Thanks for your support during this time and we look forward to crawling with you soon! :)